Yokheved Ayberman
Interview #16086
Gender: Female
Age: 70
Date of Birth: January 1, 1926
Date of Interview: June 2, 1996
Interviewer: Yishayahu Peri
Duration of Testimony:
Number of tapes: 4
Note: Only 1 tape has been transcribed so far. Please check back soon for the latest transcripts.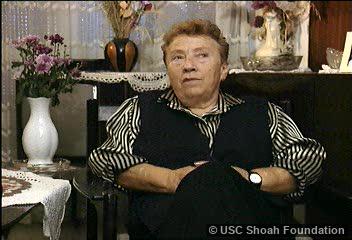 ---
Maps
Place of Birth: Minsk (מינסק)
Place of Interview: Petah Tikva, Israel
---
Tapes
From the collection of the USC Shoah Foundation
---
Transcripts
---
Download
Additional transcript formats, including Praat (.TextGrid) and ELAN (.eaf), are available in our GitHub repository.
---
Cite this testimony
If you use this testimony in your work, we request that you include both of these references:
Bleaman, Isaac L., and Chaya R. Nove. 2023. Corpus of Spoken Yiddish in Europe. Berkeley, CA: University of California, Berkeley. https://www.yiddishcorpus.org. Accessed February 28, 2023.
Ayberman, Yokheved. Interview 16086. USC Shoah Foundation Visual History Archive. USC Shoah Foundation. 1996. Accessed February 28, 2023.
As a reminder, users of the corpus agree to abide by our Terms of Use.